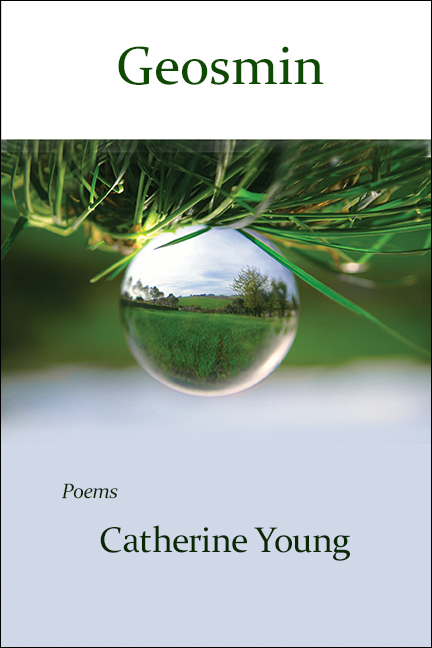 Geosmin Poetry Hardcover 102 pages ISBN:978-1-952526-09-1
The poems of Geosmin (the scent of soil) are celebration of the startling and shimmering earth, praising creatures of soil, sky, and in-between. Ecologist, farmer, mother, and poet Catherine Young honors land and what it means to be human in this world. Her poems journey through earth, water, tree, and stone, the heartbreak and beauty of seasons across a rural year, and take a panoramic view of aging. Young paints a deep map of Wisconsin's Driftless region while evoking a place found within regions of the heart.
Praise for Geosmin
Catherine Young celebrates land in such a wholehearted way that she nearly becomes the fir tree, "sheathed in resinous green, pulling at the sky / drinking sun," and, back in her own skin, apologizes profusely for being "rootless" and "warm-blooded."  One might purchase Geosmin simply for its rich and varied vocabulary, beginning with the title, which we quickly learn, means "earth odor." This tribute to the poet's life in the Driftless bioregion of the Upper Midwest is also an homage to the humble and capable people who inhabit the area—as well as a warning that the earth is fragile and in danger.
—Joyce Sutphen, Minnesota Poet Laureate
Worlds within worlds unfold, ambered in words, as we follow her wanderings on the land. Linguistic sensuosity matches the touch of skin on bark, the rocks' dance, time and space openings from trilobite murmurings to the purple shimmer on Lake Superior's shore. We roam through a year of change, visit with dairy and goat farmers in the Driftless region, browse in antique shops, and explore the workings of memory. Young's Geosmin envelopes us in the sense texture of a region, and distills its perfume.  
—Petra Kuppers, author of Gut Botany
"Let us witness / the whirling embrace between / orb and ocean," writes Catherine Young, who bears witness to the soil, the water and sky, and the amazing richness of a landscape and soulscape that is at once painfully beautiful and alluring and, at the same time, in sad decline. This is "the real America," she says, "a place / where everyone can freely play together as everything crumbles."  Young is, I think, a fresh and invaluable voice in American poetry, her linguistic strength vivid in each poem in this pristine collection.  She's the real thing, and I celebrate her and Geosmin."
 —Jay Parini, author of NEW AND COLLECTED POEMS, 1975-2015
"Catherine Young writes from the heart and from the land, with the keen eye of a geologist and the soul of a poet. In the tradition of Gary Snyder, Mary Oliver, and Louise Glück. These poems honor rural life and the earth itself, poems concerned with the soil, with water, with the changing seasons, and with language. In short, they grapple with what it means to be human and one part of this fragile and natural world."
—Christopher Chambers, editor Midwest Review
"InGeosmin, the poet, Catherine Young, narrates for readers what it means to unearth the subtle miracles of lichen, streambanks, fossils, and raspberry canes, and in so doing, what it means to be connected to our fragile and dazzling planet."   
— Heather Swan, Nelson Institute of Environmental Studies lecturer 
and author, A Kinship with Ash
Catherine Young is a writer and performing artist whose work is infused with a keen sense of place. She is author of the poetry collection Geosmin (scent of soil) released in spring 2022. Her writing has been published in the anthologies The Driftless Reader,Contours, Permanent Vacation II: Eighteen Writers on Work and Life in Our National Parks, Imagination and Place: Cartography and is forthcoming in Essential Voices. Her work appears internationally and nationally in literary journals. Her poetry has been published as broadsides for Fermentation Fest Farm Art / Dtour Passwords and Madison Metro Buslines.
A nominee for the Pushcart Prize and Best American Essays, Catherine Young worked as a national park ranger, farmer, educator, and mother before completing her MFA in Creative Writing at the University of British Columbia. She holds degrees in Environmental Science, Physical Geography, and Education from the University of Wisconsin-Madison. Catherine leads writing workshops, and records the weekly Landwardpodcast for WDRT.
Rooted in farm life, Catherine lives with her family in Wisconsin's Driftless Area. Her writings and podcasts are available at www.catherineyoungwriter.com/